We took a quick tour of Piazza shops this week and found some great last minute gift ideas for the holidays. The quaint setting on "The Square" in Jenkintown is a perfect back-drop to holiday festivities. Scroll down for a gallery of full sized pictures from our tour!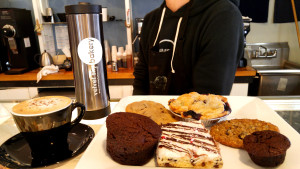 We began shopping by fueling up at Velvet Sky Bakery & Cafe with a mocha latte and a delicious cranberry and eggnog scone. While savoring my mocha a mom took pics of her daughters enjoying Velvet Sky's famous cupcakes. The youngest had more icing on her face than in her mouth and was clearly having a good time. If you need pies or cakes for the holidays this is a bakery you must visit.
From there I wandered across the street to Allegheny Art Company dodging a Mom whisking her daughter over to the award winning Edge Dance Company for a lesson. Inside Allegheny Art there are eclectic and artsy gifts and a storehouse of art supply to satiate any artist. Allegheny Art also offers framing services. I love the novelty mugs – Star Wars and Batman are my favorites! Adult Coloring Book are also in supply with a great selection. Adult Coloring books were a big 2015 item that is still going strong this holiday season. And why not? They are the perfect combination of artistic expression and a zen like break from the buzzing and beeping gadgets that nag us 24/7. The owner steered me towards another hot item for 2016 – magnet games. What fun!
Next up I dropped in at Luda's Judaica. A gem of a store tucked beside La Pergola Restaurant and Le Bella Donna Bridal and Formal Wear on the "Square" side. Luda's has a beautiful collection of Judaica, special gifts, and Israeli jewelry. With Hanukkah arriving soon I of course had to take a look at her amazing collection of Dreidels from playful selections for children to stunning pieces of art. Whether you are adding to your Hanukkah supplies, buying a gift for that special bar mitzvah boy or bat mitzvah girl, or want an authentic piece of Israeli jewelry for that special someone… Luda's has it all.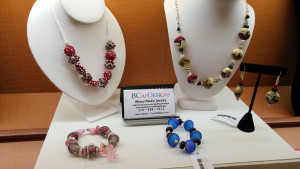 After saying my goodbyes at Luda's it was just a few steps to The Art of It Gallery where I was greeted by a festive holiday centerpiece and the work of local fine artists and artisans. I also joined Amy Wergelis for a visit to her art class that was in session. Later I realized that art classes might be the perfect gift for that person who has everything. The collection of art at this Jenkintown gallery is truly impressive. Whatever the medium, The Art of It seems to have it. Watercolors, acrylics, textiles, ceramics, artisan jewelry and even fashion art pieces that were surprising affordable, eclectic and funky that may even impress that hard to buy for niece.
While I did not have time to drop by Le Bella Donna I grew (a little) annoyed when I realized I also didn't have a good excuse to buy a lovely formal gown (yet). I decided then and there to work on my holiday social agenda so I can pay the attentive staff at Le Bella a visit very soon. That will also give me a good reason to book my next hair styling at Finlia Hair Salon. I love the results at Finlia almost as much as I love the owner's charming Irish accent.
Last but not least, I am looking forward to returning for the Hanukkah celebrations and Menorah lighting December 29th. My family enjoys combining fine dining in Jenkintown with our holiday visits. Will it be Mediterranean delights at La Pergola Restaurant? Maybe the best brunch in Montgomery County at the famous West Avenue Grill? Or perhaps classic Italian at Marzano Ristorante or French inspired American at Leila's Bistro? Making the choice is half the fun and these award winning restaurants all put a hearty exclamation point on any shopping adventure.
Image Gallery: Last Minute Shopping Ideas