Get a running start on Spring!
Make your plans for the Jenkintown Sunset 5K Run June 4th.
There will be activities for everyone with vendors joining the fun. This has become an annual tradition in Jenkintown. Interested in sponsoring this event? LEARN MORE
Benefits the Kiwanis Club of Jenkintown: Visit Website
REGISTER | VOLUNTEER | FACEBOOK PAGE
Jenkintown Sunset 5K Run Tuesday June 4 @ 7PM
Free Kids Dash (6 and under)
Live Music
$26 for individual runners (Savings ends on 2/1)
$16 for those 10 and Under
$92 for a team of 4 ($23pp) Can sign up to 9 team members at once
10 or more team members, please contact race director
We love this pic of the Kid's Dash in 2018. Can you feel the energy?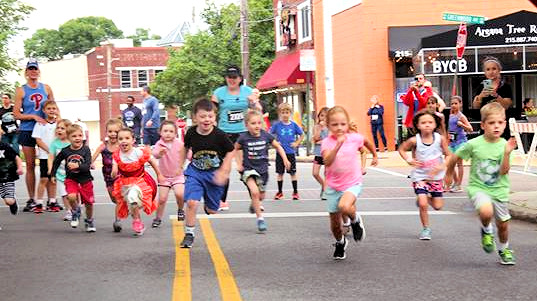 Sunset 5K Run Details:
Starting Line:
The race starts and ends on Leedom St by the Town Square. The Kids Dash starts at 6:45, Runners start at 7:00, and the start for walkers follows. We are doing corral starts this year. The corrals will be as follow: Under 7 minutes, 7-9minutes, 9-11minutes, and Over 11 minutes.
The Route:
Are you ready to run the Summit? This challenging tree lined 5k course winds it's way through the borough of Jenkintown without crossing Old York Rd.  Jenkintown residents come out to cheer on our runners and walkers.
Prizes
Gift certificates and Medals – Top three finishers, male & female
Medals for first to third place teams
Medals for top 3 finishers in each category
Registration Fees:
Early Registration: $26 (1/4-1/31)closed
Pre- Registration: $31 (2/1- 4/30)
Late registration: $35 (5/1-5/28)
Team Early Registration: $23 per person (1/2-1/31) -closed
Team Pre- Registration:  $28 per person (2/1-4/30)- must have a minimum of 4 people per team, but can be as large as 9 team members
Team Late registration: $32 per person (5/1-5/28)- must have a minimum of 4 people per team, but can be as large as 9 team members
"Day of Race" Registration, $40 (online from 5/29-6/3 at 12PM)
Child- 10 and under, $16 (online from 1/4-6/3 at 12PM)
Kids Dash 6 and under, free (no registration required)
No "Day of Race" Team Registration Allowed
Teams: top four times count, if you have a team of 10 or more please contact the race director to register
There are no refunds given after 6/1/19. No exceptions to this rule.
Registration Packets: All participants will receive a commemorative T-shirt while supplies last.
For those who  sign up online by 5/28, you may pick up your race packet at Jenkintown Running Co, 416 Old York Rd, during business hours between May 31-  June 3 . For those who sign up online after 5/28: On June 4th, race day, you may pick up your packet at our pre-registration check-in table starting at 5:00 pm.
If you have any questions please contact the race director: Stuart Tollen: drtollen@comcast.net